Aaron Shikler was born in 1922 in Brooklyn, NY. He attended the High School of Music and Art in Manhattan, then studied at Temple University's Tyler Art School in Philadelphia, Pennsylvania, and with Hans Hoffman in Manhattan.
Aaron in 1961
Among his awards and honors, Aaron received the 1957 Louis Comfort Tiffany Foundation Grant, the Thomas B. Clark Prize for 1958, 1960 and 1961, and the Benjamin Altman Prize from the National Academy of Design in 1976.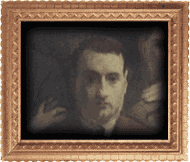 Aaron by Rafael Soyer
Aaron is noted for his posthumous character study of John F. Kennedy, Oil Portrait of John F. Kennedy, which serves as JFK's official White House portrait. Aaron also painted the official White House portraits of first ladies Jaqueline Kennedy and Nancy Reagan. In 1958 Aaron, along with David Levine, began a weekly painting gathering working with live models that continues to this day.
Aaron in 1981
Aaron's work is part of the public collection of many museums, including the Brooklyn Museum of Art, the Metropolitan Museum of Art, the New Britain Museum of American Art, the Hirshhorn Museum and Sculpture Garden, and the the National Academy of Design.
Aaron in 2003
The 1961 and 1981 photos are by Guy Gillette. Aaron died on Thursday, November 12, 2015. The Davis and Langdale Gallery now represents works belonging to Aaron's estate. You can find out more about Aaron and his art by visiting the Aaron Shikler fan page on Facebook. Back to home page