Daniel Bennett Schwartz was born in 1929 in New York City. He attended the High School of Music and Art in Manhattan, studied painting with Yasuo Kuniyoshi at the Arts Students League, and received a Bachelor of Fine Arts degree from Rhode Island School of Design in 1949.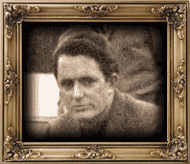 Daniel in 1961
Among his awards and honors, Daniel received a 1959 and 1960 Louis Comfort Tiffany Foundation Grant, a number of prizes from the National Academy of Design, and the 1964 Purchase Prize from the Childe Hassam Fund of the American Academy of Arts and Letters.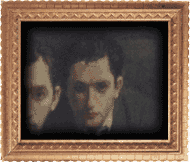 Daniel by Rafael Soyer
Daniel's work has appeared at the Davis Gallery, FAR Galleries, Hirschl & Adler Galleries, Arcadia Arts Gallery, Fitzgerald Gallery, Babcock Galleries and Hammer Galleries (all in New York City), Maxwell Galleries in San Francisco, the Butler Institute of American Art in Youngstown, Ohio, Susan Conway Galleries in Washington, D.C., the Fine Arts Gallery of Santa Fe, New Mexico, Kenmore Galleries in Philadelphia, Pennsylvania, Clossen Galleries in Cincinnati, Ohio, the Boston Museum of Fine Arts, Arts in Asia in Hong Kong, and the Noguchi Gallery in Tokyo.
Daniel in 1981
Daniel's work is part of many public collections, including the British Museum, the Century Association, Long Island University, the Maryhill Museum of Art in Goldendale, Washington, the Mississippi Museum of Art in Jackson (Mississippi), the New Britain Museum of Fine Arts in New Britain, Connecticutt, and the National Portrait Gallery of the Smithsonian in Washington, D.C.
Daniel in 2002
The 1961 and 1981 photos are by Guy Gillette. DanielBSchwartz.com has more information about Daniel and his art. Back to home page